Daily Routine
24 HOURS OF BIKEBOAT:
Hearty breakfast on the boat at 8 AM.
The GEOTOUR guide distributes cycling maps and gives a detailed explanation of the main recommended route, including various detours and options (shortening or lengthening the route, MTB terrain sections, options for recreational cyclists, for road cyclists etc.). Be prepared to cycle an average of 40 – 70 kilometres with 700 – 1800 metres of elevation per day.
Unload the bicycles and depart (individually or in smaller groups). Those who are tired or simply do not wish to cycle can stay on the boat. The boat sails along the island and can anchor at a nice place for swimming or for sightseeing and meets the bikers in the afternoon/evening. In some days, the boat can have a stopover to allow tired cyclists to board or those that want to cycle a shorter distance to get off.
Cycle on the island according to your choice. Generally, roads are good quality, the traffic is light, and the profile is hilly with steep climbs in some places. For mountain bikers there are excellent off-road terrain options ("makadams", singletracks – "goat paths") every day. If the road follows the coastline, it is possible to stop for a swim.
Load the bicycles back onboard.
Dinner is served in the boat saloon, usually at 7 PM.
Sleep in the boat cabins. Overnight, the ship is securely docked, typically in a small port, or – rarely – anchored in a calm, sheltered bay.
The boat usually leaves early in the morning before breakfast between 7 and 8 AM for another island. It usually takes between one and three hours to cover the distance.
From one place to another or – making a loop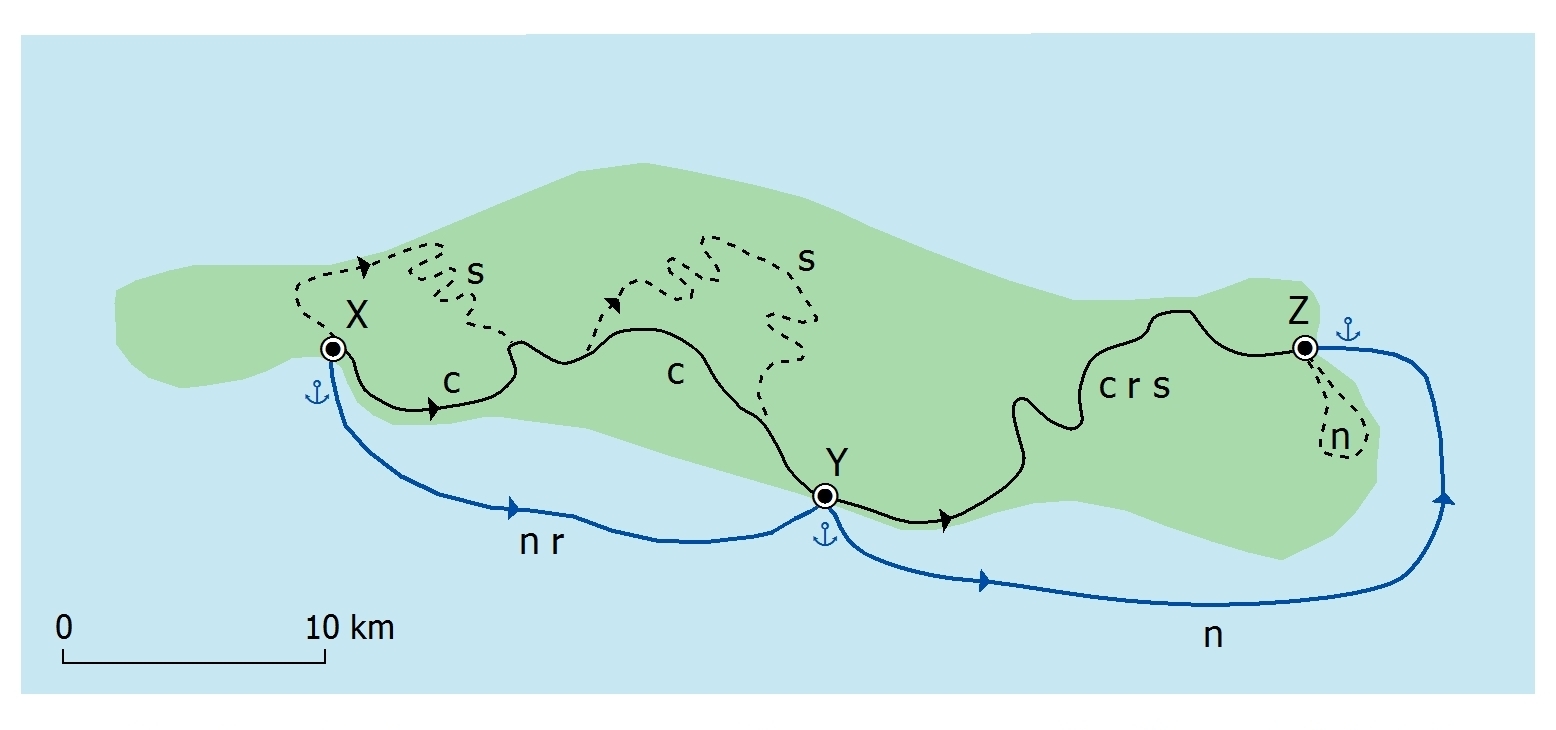 The profile is hilly, with steep climbs in some places. It is possible to adjust difficulty of the route with your own choice of surface, profile and length.
Our boats usually sail between two ports during the day (from port X-start to port Z-finish). In some days, however, you can choose to get on or get off the boat in another port located along the way (Y), which can cut your biking distance about in half for that particular day.
BIKEBOAT is also suitable for couples even if only one person is cycling while the other stays on the boat. In the case that you decide to remain on the boat during the day, our captain can cast the anchor for you in a crystal blue sheltered bay so you can swim or dive there, or you also have the option of exploring a picturesque port town en route. You will meet your partner again in port Z – the finish. The boat usually reaches port Z before the cyclists.

Occasionally the boat stays in the same port during the day. Then it is possible to cycle around the island in any way you wish.